Welcome!

Teaching Seasons.com provides a kaleidoscope of information on education, the community, and creating teacher resources for children's book authors.
Educators can view the site for information on the Common Core Standards, professional development opportunities, and  teaching strategies.
Parents will find a myriad of helpful educational tips for kids.  How to find a "Just Right"  reading book for your child, as well as finding great Read Alouds for kids!
Educational Publishers and Authors:  We can create unique Teacher Resources for your books.  Please visit the Contact Page.   You'll find an example of a Teacher Resource created for Children's Book Author, Bruce Hale.  His book,  Snoring Beauty,  was chosen for Oprah's Reading List for Kids.
Click here to go to the Teacher Resource page.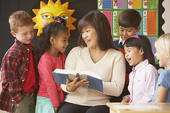 Teaching Seasons.com is also a place for you to share your teaching moments.
A teaching moment is a defining and spontaneous educational opportunity when learning can be maximized.  The term originated in the early 1950s as an unexpected ideal opportunity between a teacher and a child as a "light bulb" learning moment.
*A teaching moment can happen to anyone . . . anywhere . . . at any time.
*  Share your teaching moment!  Please go to the Contact Page.
Thanks for visiting TeachingSeasons.com.
About

           Literacy and Teaching Artist, Grace,  is a National Board Certified Teacher, a writer, and a Curriculum Designer of Teacher Resources.

  She is an English Language Arts (ELA) and English Language Development (ELD) Adoption Reviewer for Common Core Curriculum Materials for the California Dept of Education.
"The best and most memorable things in the world cannot be seen or even touched — they must be felt with the heart." – Helen Keller
Journalism:
Grace has a journalism background in both broadcasting and print media.  She has worked as a producer for CBS Affiliate TV, Radio AM and FM Stations.  Her other credits include news writing,  talk show host producer, as well as writing feature articles for magazines (both print and online), and professional journals.  She was listed in the book research team credits for historian Dr. Steve Schoenherr, author of Chula Vista Centennial:  A Century of People and Progress.  She has also co-authored with Dr. Priscilla H. Porter, Senior Author of the Harcourt School Publishers Textbook California Series for Grades K-6, in which their article, "A Picture is Worth a Thousand Words:  Using Primary Sources to Enhance Content Knowledge" was published in the 2012 Annual Edition's Social Studies Review, the official journal for the California Studies for the Social Studies.
Education:
Grace is a National Board Certified Teacher who enjoys the "teaching moment" experiences that keep her inspired.  She has been selected nationwide to attend various Teacher Institutes, such as The Library of Congress Summer Teacher Institute, Colonial Williamsburg Summer Teacher Institute, and the Phil Mickelson EXXONMobil Math and Science Teacher Academy.  Each teacher institute has a rigorous selection process.  Grace also attended Columbia University's Teacher College of Reading and Writing Summer Institutes by Lucy Calkins.
BA:  Health Science and Journalism, minor in Literature; MA: Education in Reading Specialization; MA: Education and Instructional Leadership.
Common Core Standards:
Grace has developed curriculum aligning to the Common Core Standards, including interdisciplinary connections to technology.  She is a member of the Common Core Curriculum Design Team for a school district.
Children's Literature and Extracurricular Interests
Grace enjoys collaborating with colleagues and spending time with family and friends.  You will find her reading a variety of children's literature, browsing inside a library, book store, teacher resource store, educational conferences, festivals, in addition to attending the Society of Children's Book Writers and Illustrators (SCBWI) events.  She enjoys reading and writing stories with her class, as well as volunteering in the community.  Literature comes alive outside her classroom walls and she has organized author visits and Read Across America events.  You may even find her jogging with her students and talking about their interests in  trends, pets, music, movies, food, sports, and most of all, what motivates them to learn.